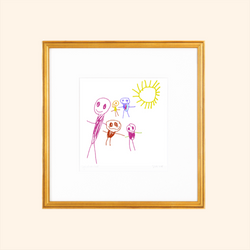 Cece DuPraz
Your Drawing Framed
Memorialize forever your kid's drawings with embroidery on 100% cotton canvas and framing it in our antiqued gold frame.
Shipped directly to you from Framebridge, they hand stitch your embroidered canvas artwork that we stitched on top of a mat in a beautiful floating mount. Comes with hanging hardware.  
Includes:
Custom antiqued gold frame 3/4" wide and 1" deep
Finished frame size 15"  x 15" 
Acrylic glazing with UV protection
Kraft paper backing
Hanging hardware
**TIP: Please feel free to include name, age and date on bottom of artwork to include in embroidery.